Despite the torrential downpours we are experiencing in Ireland, I've been having fun in the kitchen making these yummy crackers. What makes these crackers so delicious and nutritious you ask? They are made with almond pulp. After making almond milk, use the leftover pulp of the almonds to make crackers that are full of protein, fiber, vitamins and minerals.
Seasoned with fresh rosemary, they're vegan, gluten-free and super healthy. The most brilliant part about this recipe is you can customize it to your liking. Add any seeds, herbs and spices you fancy. You can even refrigerate or freeze the dough for later use if you don't want to make it all up in one day. Who knew you could take leftovers and make the tastiest snack ever? I am still delighted with my afternoon snack.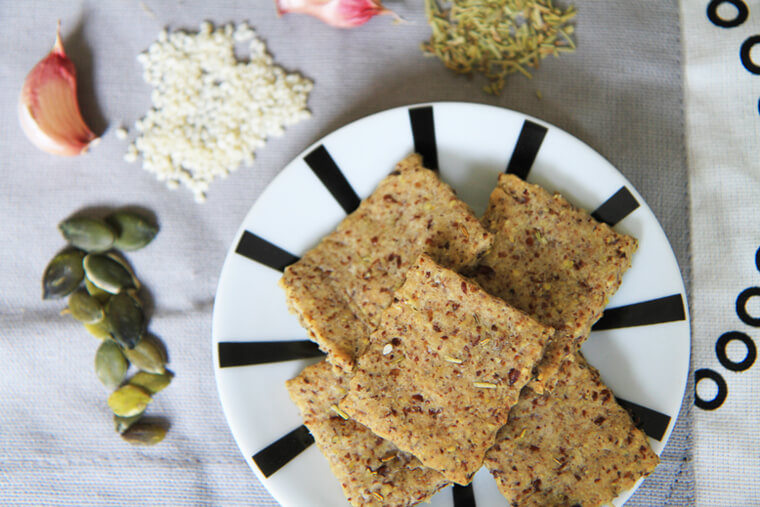 Almond Pulp Crackers
Ingredients:
1 cup firmly packed almond pulp
2 Tbsp. milled flaxseed
1 Tbsp. olive oil
1 Tbsp. fresh rosemary, finely chopped (I used the dried variety)
1/2 tsp. sea salt
Directions:
Preheat oven to 350° F (176° C).
Combine all ingredients in a large bowl.
Roll dough into a ball, press and roll to ¼ inch thickness. Transfer dough onto baking sheet lined with parchment paper.
Cut dough into 2-inch squares with a knife or pizza cutter.
Bake crackers for 20-25 minutes. Let crackers come to room temperature on baking sheet, then serve. Store in air-tight container.