As granola recipes go, some are simpler and some are more complex, and this one lies squarely in the middle. I love the idea of a bare-bones, just-the-essentials granola – oats, nuts, oil, and a sweetener of some sort – but to my palate, a great granola needs a little more. It needs a variety of nuts and seeds, and maybe a couple of different sweeteners for flavor complexity, and some warm spicing too, like cinnamon and ginger. It may require buying a couple of extra pantry ingredients, but once you've got them, you're set for a while – and for a lot of granola.
This granola makes for a lovely breakfast, snack, or even dessert. When the granola is topped with raw cashew cream, it supplies just the right amount of indulgence – without the guilt.
Cashew Cream
Ingredients:
1 cup raw cashews, soaked overnight
1/2 cup water
1 Tbsp. extra virgin coconut oil
1 Tbsp. agave nectar (or maple syrup, raw honey etc)
Seeds from 1/2 a vanilla bean (or 1 tsp vanilla extract)
Pinch of sea salt
Directions:
Place the soaked cashews and water in a blender. Turn the blender onto a low-medium speed to break up the nuts and stop when the pieces are starting to form a puree.
Add the coconut oil, agave nectar, vanilla bean seeds, salt and more water if necessary. Turn the blender to high until the mixture is as creamy and smooth. This may take a few minutes.
Scrape cashew cream into a container and chill thoroughly.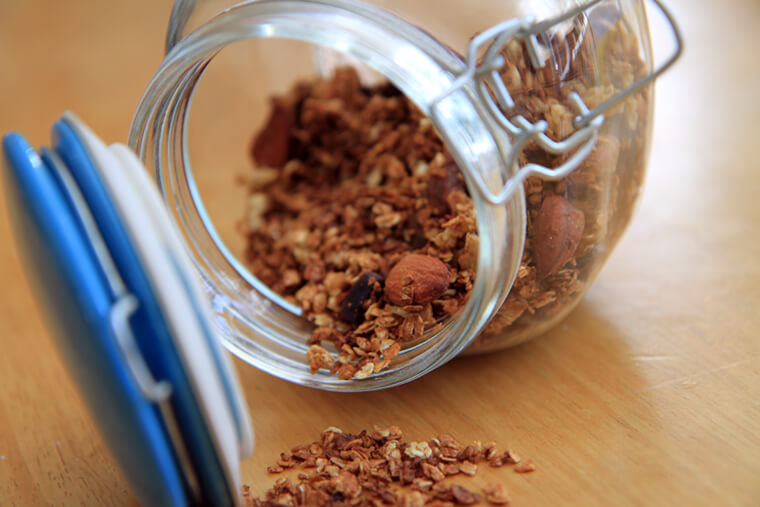 Fig' n Pear Granola
Ingredients:
1 cup nuts or seeds of your choice (I used a mix of almonds and hemp seeds)
1/2 cup fresh or dried figs, chopped
1 cup fresh pears, cored & roughly chopped
2 1/2 cups rolled oats
2 tsp. cinnamon
2 tsp. ground ginger
1 tsp. salt
1/2 cup unsweetened apple sauce
1/4 cup agave nectar, maple syrup or honey
1 Tbsp. coconut oil or olive oil
2 Tbsp. vanilla extract
Directions:
Preheat the oven to 350° F  (177° C).
In a large bowl, combine all of the dry ingredients. Stir to mix well. In a small bowl, combine all of the wet ingredients. Stir to mix well. Pour the wet ingredients over the dry ones, and stir well.
Spread the granola evenly across a baking sheet. Bake for about 20 minutes, or until golden brown. Stir periodically to help it bake evenly.
Let cool completely, store in airtight container and keep in the refrigerator for longer shelf life.
To assemble: Place sliced/chopped fruit into a bowl and spoon some granola mix evenly on top of the fruit and put a nice dollop of cashew cream on there. Then devour.